Planned Giving

Dan Zgolinski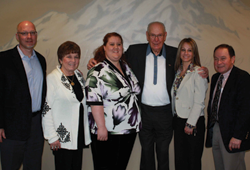 Dan Zgolinski was born in 1913 in the mining town of Franklin, Washington, and he lived in south King County his entire life. After graduating from Renton High School, Dan spent three years in the U.S. Navy. While employed at Sears Roebuck, he worked with management trainees. He watched them get promoted because they had a college degree and he did not. It was then that Dan realized the value of a college education.

Dan initially became a Green River Community College supporter through competing in the college's Pro-Am Golf Tournament. Dan and his first wife Helen, both avid golfers, helped make the Pro-Am the premier golf tournament in the region. After his wife Helen died, Dan created the Zgolinski Scholarship Endowment to memorialize Helen and extend his support of Green River students. The Zgolinski Scholarship has benefited over forty students since it was established in 1985. Dan credited his friends at Green River, including Jack and Kathy Johnson, Rich Rutkowski, and Kara Hefley, with getting him involved and connecting him with the opportunity to positively impact the lives of young people.

In 1990, Dan married his second wife Evelynn, and both Zgolinskis enjoyed time meeting with scholarship recipients and supporting college education as a means to a better life. When Dan learned that the college received a matching grant from the State of Washington to construct a Student Welcome Center, he made significant provisions in his estate plan, which helped the college meet its matching goal. Thanks to Dan's vision and generosity, Dan's estate provided a contribution of assets including an IRA, gifts of real estate, and outright cash. The Zgolinski Welcome Center continues to serve as a first stop for new students on their path to achieving their educational goals and his scholarship endowment will continue to help students for years to come.